Favorite movies are usually easy to come back to.  It's a familiar song, stars you feel at home with, and even if you recite all the lines by heart, you can find something new to come back to.  In the case of Planes, Trains, and Automobiles, even though I had seen the movie probably around a dozen times or more, I was lured by the promise of new deleted and extended scenes but also a 4K-quality picture.  But as with life, you don't always get everything you want.  Let's take a look.

Please note that portions of this review came from my 2011 article on the Blu-ray, and I have improved on it where possible (and it makes sense to).  
New York City, two days before Thanksgiving. Neal Page (played by Steve Martin) is busy waiting on his boss to make a decision about which cosmetics ad to go with. The guy just can't make up his mind, and Neal has a 6:00 plane ride to Chicago to catch. Finally Neal is able to leave and runs out the door and goes down the elevator out to the street. There is a very long line to deal with to get a cab, and it looks like Mr. Page is going nowhere fast.
Neal at some point does spot a cab, but it just so happens that another guy (played by Kevin Bacon) spots the same cab from across the street. It soon becomes a race to get to the mode of transportation in the shortest amount of time. Ultimately, the other guy wins, and Neal is forced again to look for another way to catch a cab. After more tense moments, he finds an empty cab, only to be taken at the last second by a New York attorney (played by Nicholas Wyman).
Mr. Page pleads with the attorney to let him take the cab instead. The attorney finally settles on $75 to just take the cab away from him. But as soon as the cash is handed over, the cab takes off with a trunk and a suitcase in the back. Neal runs after the cab and catches up eventually. He opens the door only to find a surprised man (played by John Candy) who immediately slams the door back and then the cab takes off to the airport. Neal eventually finds his way to the airport.
Neal calls his wife, Susan (played by Laila Robins) and tells her that he should be home by 10pm. Kiss kiss, see you soon. He gets to the terminal and sits down only to see the surprised man, now known as Del Griffith, reading a copy of "The Canadian Mounted". Del is a shower ring salesman and is trying to get to Chicago as well. Once Del realizes how he accidentally took a cab from Neal, he tries to make up for it, but Neal just tells him to forget it.
They board the plane, and unfortunately Neal's first class ticket is really just a coach ticket. He protests briefly before giving up and going back to coach. It just so happens that his seat is next to Del Griffith. Neal is frustrated with the situation and becomes even more unnerved when Del decides to take off his shoes and socks. Before taking a rest, the shower ring salesman is convinced that this plane will not land in Chicago because of the weather outside the terminal.
Later, they are awakened by the cockpit who announces "Welcome to Wichita, Kansas". Unfortunately, the plane did not make it to Chicago. Upset and tired, Neal tries to find another way out of Wichita. It is not going to happen on this cold night. Del chats up a conversation with Neal, and it seems that he was able to corral a room for the night at the Braidwood Inn. Eventually Mr. Page caves in and decides to head off to the inn and see if he can get a room as well. Little does he know that his adventures with Del Griffith are just beginning.
Planes, Trains, and Automobiles has always been one of my favorite films. The sad fact is that it had been many years since I have seen it. Well, probably since the last time I reviewed it on Blu-ray. But, I regard it as a classic way more than I ever did as a teenager when it was first in theaters.  Steve Martin and John Candy are fantastic together. Steve Martin (despite being funny in his own right) plays the straight man, and John Candy does his best over-the-top comedy performance by being warm and charismatic.
In fact, despite the film really only having two major characters, it does wonders with small yet important roles. We get Kevin Bacon, Edie McClurg, and even Ben Stein in these small but unforgettable parts. Sure, since this is a John Hughes written and directed film, we are familiar with these actors showing up, but they play such good roles that we do not mind one bit. There is very little not to like in this movie (as with most pictures by Hughes), as long as one is able to stretch reality just a little bit.
But PTA (as I have started to call it over the years), is something very important (that is missing from many movies today) in addition to being hilarious. It has a heart of gold. Despite all of the horrible things that happen between Neal Page and Del Griffith, the picture does a fantastic job to bring it together in the end. The ending is amazing, and we learn so much about Del Griffith and how wonderful a man he really is. If there is a dry eye in the house after this movie, then perhaps the viewer needs to go find a heart, because they surely lost the one they had.
Video
The video is in 1.85:1 widescreen in HEVC / H.265 with a native 4K presentation. The disc runs about 80 mpbs on average(BD-66 disc).    That sentence would be the highlight, unfortunately.  From the moment that we stare into the boardroom for our first scene, there is something completely unsettling.  Steve Martin's face is very soft, as is the rest of the set around him.  It looks as if they haven't dusted in years, and there is this hazy film around everything.
Moving on from the boardroom to the elevator and to the streets of New York below, Kevin Bacon is almost unrecognizable as he and Martin race to get a cab.   New York could always be described as a little foggy, but the pea soup seems strong this afternoon.  Eventually we do get to the airport and the "Canadian Mounted" no longer looks all that interesting, and don't even try to read the flights that were cancelled.
The coupe de grace doesn't happen until we find both Steven Martin and John Candy on the plane.  Let's say the dogs are no longer barking and instead should be taken out back and shot.  The DNR has been applied at an alarming rate.  Definition is sometimes there, but it's missing a lot, too.  It does feel like it gets better as you go along, but it's often hard to believe that this is a 4K presentation.  Yes, it is watchable, but it's just disappointing.
Since I was in possession of the Blu-ray I reviewed so many years ago, I watched the first 15 minutes on each disc again.  I looked up and down at each freckle, each layout in the boardroom, and each face that I came across.  I might or might not have uttered an expletive or two.  Not since the 4K presentation of Collateral had I seen a 4K presentation that was actually worse than the Blu-ray.
Contrary to popular held belief, I actually think well of PTA's Blu-ray's video.  While not perfect, it's actually quite watchable, and I stick to my original review in that category.  Most of the time (provided there wasn't an important missing special feature), I can feel OKabout ditching the Blu-ray and making back a couple of bucks, but not here.  At least Collateral had the sense to include the original Blu-ray disc.
Audio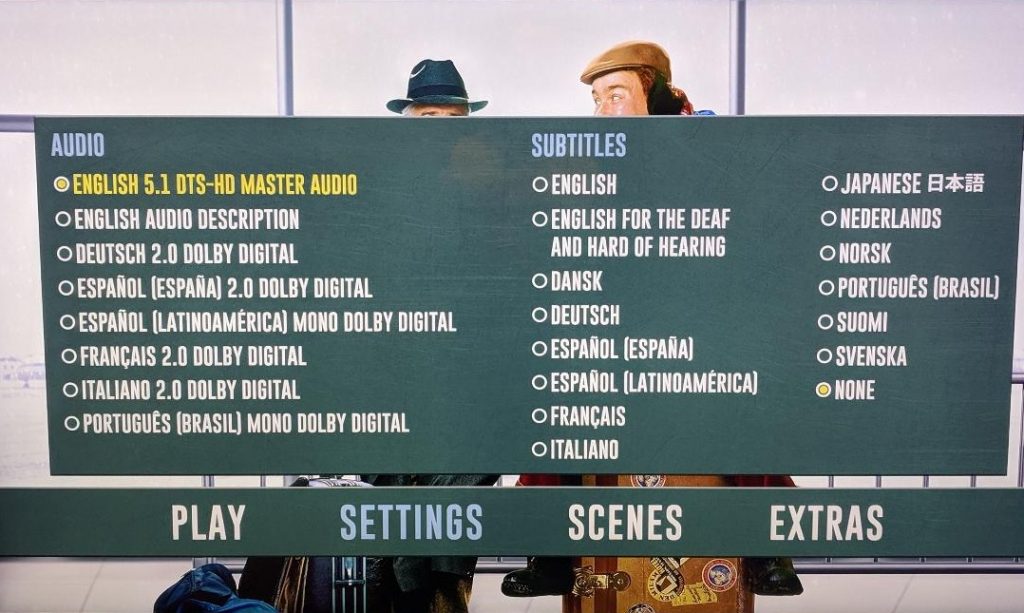 Rather than sit here and list out a couple of paragraphs of the audio and subtitles options for the 4K, I am simply posting a picture.  This was taken with my phone, so please don't take it as a "screen capture" and rather a piece of information.
The 5.1 DTS-HD track has been duplicated here from the original Blu-ray.  Dialog and the various sound effects, especially present at the beginning, have separation, and probably for the best have not changed.  It is easy to think that this movie is strictly dialog in nature because of the relationship formed between Martin and Candy. Environment and music really play into the movie. "Mess Around" by Ray Charles or the car crash is a great example of this.  Dooby's Taxiola sounds like a concert, and the planes might make you duck a time or two.  Subtitles are truly SDH and do have cue directions, which was an improvement from the Blu-ray.  Maybe no upgrade is best here.
Special Features
Disc One – 4k Disc
Getting There is Half the Fun: The Story of Planes, Trains and Automobiles 16:38: This looks like an interview session from 1987 in which John Hughes, Steve Martin and John Candy (who is fashionably late) are mixed in with film clips and recent interviews. This serves as the best film-related extra on the disc.
John Hughes: Life Moves Pretty Fast – The Voice of a Generation 27:39: So starts the John Hughes love session. Not that he doesn't deserve all of this extra material, but unfortunately not too much of this focuses on Planes, Trains and Automobiles. The first featurette deals with John's numerous movies, including Ferris Bueller's Day Off (which I really want to watch right now), Pretty in Pink, and She's Having a Baby. John really was in tune with the teenage voice and gave us a lot of great movies that really spoke to my generation.
John Hughes: Life Moves Pretty Fast – Heartbreak and Triumph: The Legacy of John Hughes 25:51: The second featurette is more personal in nature and goes over John Hughes' life, eventual move away from the business, and finally his unfortunate death at the age of 59 just a couple of years ago. This also focuses on John's relationship with his actors (in particular, Molly Ringwald and John Candy) and how he would adjust the script to meet their personalities.
Again, this is archival footage of John mixed with more recent interviews from people he has worked with, and film clips.
John Hughes for Adults 4:02: A very short featurette focusing on the more adult films John has made, such as Planes, Trains and Automobiles.
A Tribute to John Candy 3:01: A very short tribute to one of the greatest comedians of all time. They focus on how gifted he was comically but also dramatically, which really comes through in this movie. If Mr. Hughes gets nearly an hour of featurettes, they surely could have spent 15-20 on John Candy.
Disc Two – Blu-Ray Disc (the 2nd disc does not contain the movie)  These are all brand new extras culled from the John Hughes archives and with the exception of Airplane Food are VHS quality in both video and audio (and unfinished in some cases).  However, many of these are exceptional and well worth your time.
Extended Scene – Waiting to Board 4:35:  Right before the board the plane from New York to Chicago, we get a good one here.  John Candy lists more even more food that he is willing to bring to Steve to make up for the cab incident.
Extended Scene – Seatmates 12:07:  Ever curious about what a conversation about Psycho and Hitchcock would be like between these two stars?  Well, wonder no more.
Deleted Scene – Airplane Food 3:30: A very funny scene of John Candy, Steve Martin, and I believe that's Bill Erwin on the airplane and eating (or not eating) their meal en route to Chicago. This scene shows up a lot in television broadcasts but is worth your time.
Extended Scene – Dooby's Taxiola 7:18:  The taxiola is rather devoid of sound in this extended scene.   It actually makes Dooby's character a lot less interesting (and more annoying), which is probably why this ended up on the cutting room floor.
Extended Scene – Edelen's Braidwood Inn Part 1 12:05:  Did you ever want to understand the wet towels in the hotel room better?  Well, here is your chance.  Also, quite an amusing scene with the pizza delivery guy.
Extended Scene – Edelen's Braidwood Inn Part 2 14:58: More tidbits from the inn, apparently we could have spent half a movie here.
Extended Scene – Broke at Breakfast 8:50:  The next morning, John Candy gets some breakfast while Steve Martin gets back into his clothes.
Deleted Scene – 99 Bottles of Beer on the Bus 1:26:  This answers the eternal question of what happens when you get to the end of the 99 bottles of beer song, what do you sing next?
Extended Scene – The El Rancho Motel  8:20: This scene takes the movie into an unexpected direction, and that is Laila Robins' character actually starting to believe that Steve Martin is having an affair.  Let's move on.
Extended Scene – The Oshknoggin Cheese Truck 2:14:  Did you know that Oshknoggin Cheese had a theme song?  Well, now you do.
Audition – Dylan Baker "Owen" 3:34:  Finally we get a couple of takes of Dylan Baker being the very snot-nosed Owen.  The first take is snot in overdrive while the second is a little more restrained.
Final Thoughts
It is easy to find myself to be so passionate about this movie after not watching it for a number of years. I was happy to see the characters, and I was even more interested in going along for the journey with Del Griffith and Neal Page. Maybe because I have a soft spot for John Candy and Steve Martin. Or perhaps, the characters blend so wonderfully together into a neat package of masterful movie making.
But what should have been a fairly easy improvement over the original Blu-ray does not go as intended.  The 4K picture is muted, scrubbed, and full of a nasty softness that leaves it watchable but little more.  Perhaps Paramount would be interested in letting Criterion or Arrow handle this at some point, for the 40th anniversary.  The extras are the sole reason to get this package with over an hour of extended and deleted scenes that are often quite hilarious.
If the viewer decides to take a 2-disc case and put the extras disc in with the original Blu-ray, I honestly would not blame you.  Especially if you got the lenticular cover from Best Buy back in the day.  The recommendation here is to proceed with caution, and enjoy … the extras.   It's really unfortunate that this 4K went sideways just like Owen's baby.  Take care.